*As an Amazon Associate, I may earn small commissions from qualifying purchases*
We live in a typical 1950s-built Southern California home. This means we do not have a lot of storage space - basements and attics are practically unheard of in most So Cal homes. Now that we have two kids, I have had to get creative with all the "stuff" we have now. I am endlessly envious of the large homes in other parts of the country that cost less than ours, but have massive basement playrooms. But, I wouldn't trade the weather and beach proximity that we enjoy for anything. If you are also struggling with storage solutions in small spaces, here are some things that have worked for us. Maybe they will inspire you.
Since the weather is great here and it hardly rains, we don't have use for a coat closet. We keep our "snow stuff" in bins in the garage for the once or twice a year (pre-kids) that we go snowboarding. This means we can keep our very few coats in our regular closets, no problem. In need of storage space, my husband took our traditional hall coat closet and added some wood shelving. You can see in the photo that the bar for hangers is still there. We did this in case we (or future owners) ever wanted to easily convert it back. He then added a surge protector to the center of the closet for plugging in electronics.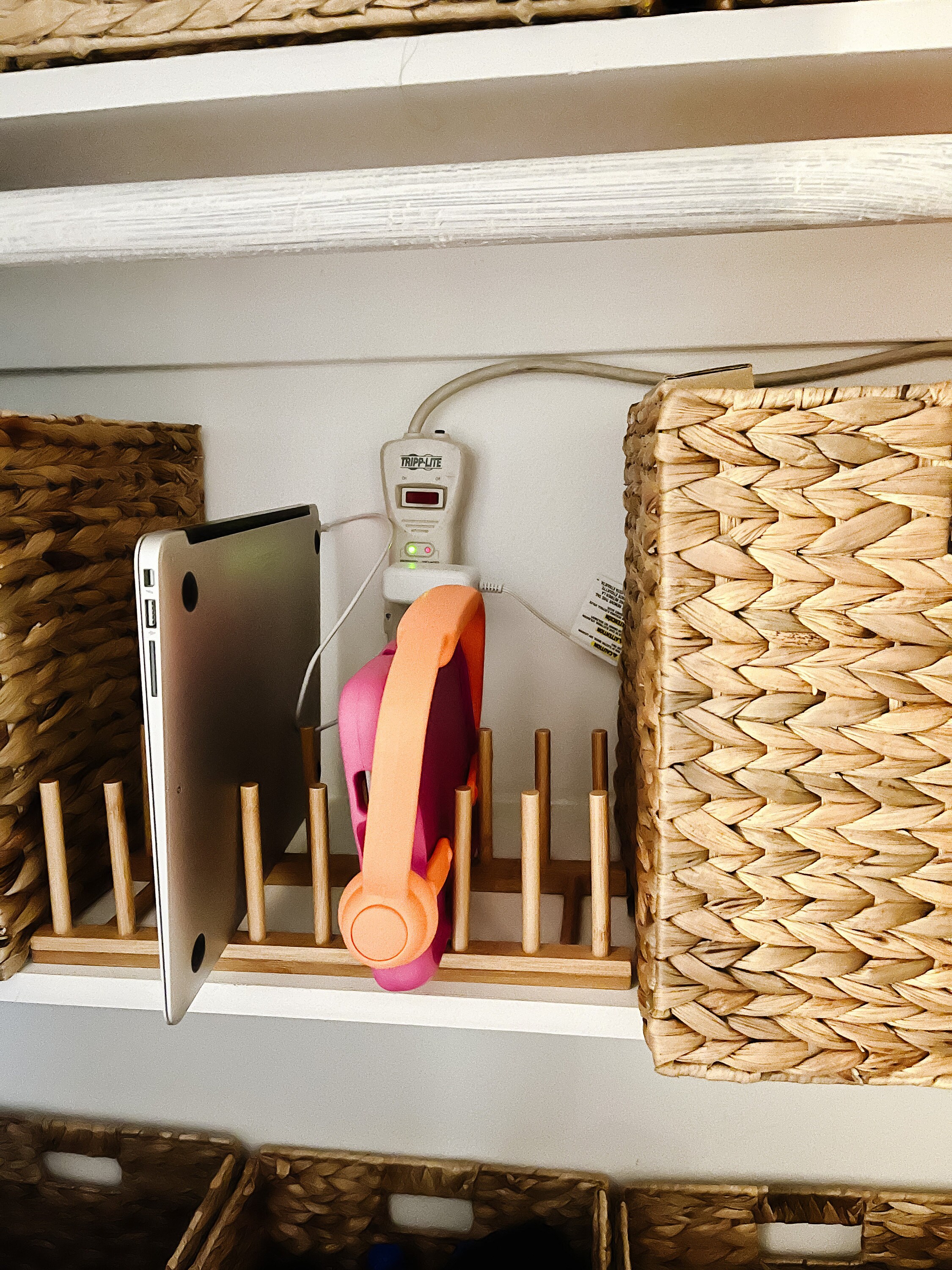 I don't know about you, but the endless cords to charge electronics drives me bonkers. I bought
this bamboo dish rack
and use it in front of the surge protector as a charging station. The cords are not out on my kitchen counters AND I can't even see them in the closet.
Initially, this closet became a dumping ground for my husband's random stuff that he never put away and I would absentmindedly shove away where it woudn't nag at me. Finally, I remodeled it a bit and it I AM SO HAPPY with how it turned out. Here is the before:
I went back and forth on storage solutions. Initally, I bought plastic bins and wire baskets from Target, but they were too shallow and small and really only helped for a week. After more research, I decided I needed deep, square baskets because I could fit 3 across perfectly. There would not be wasted space. After going back and forth on similar baskets from Target, I ordered
these
from Amazon and I am so glad I did. They came in packs of 2, and fold down flat, so they were a lot easier to have shipped.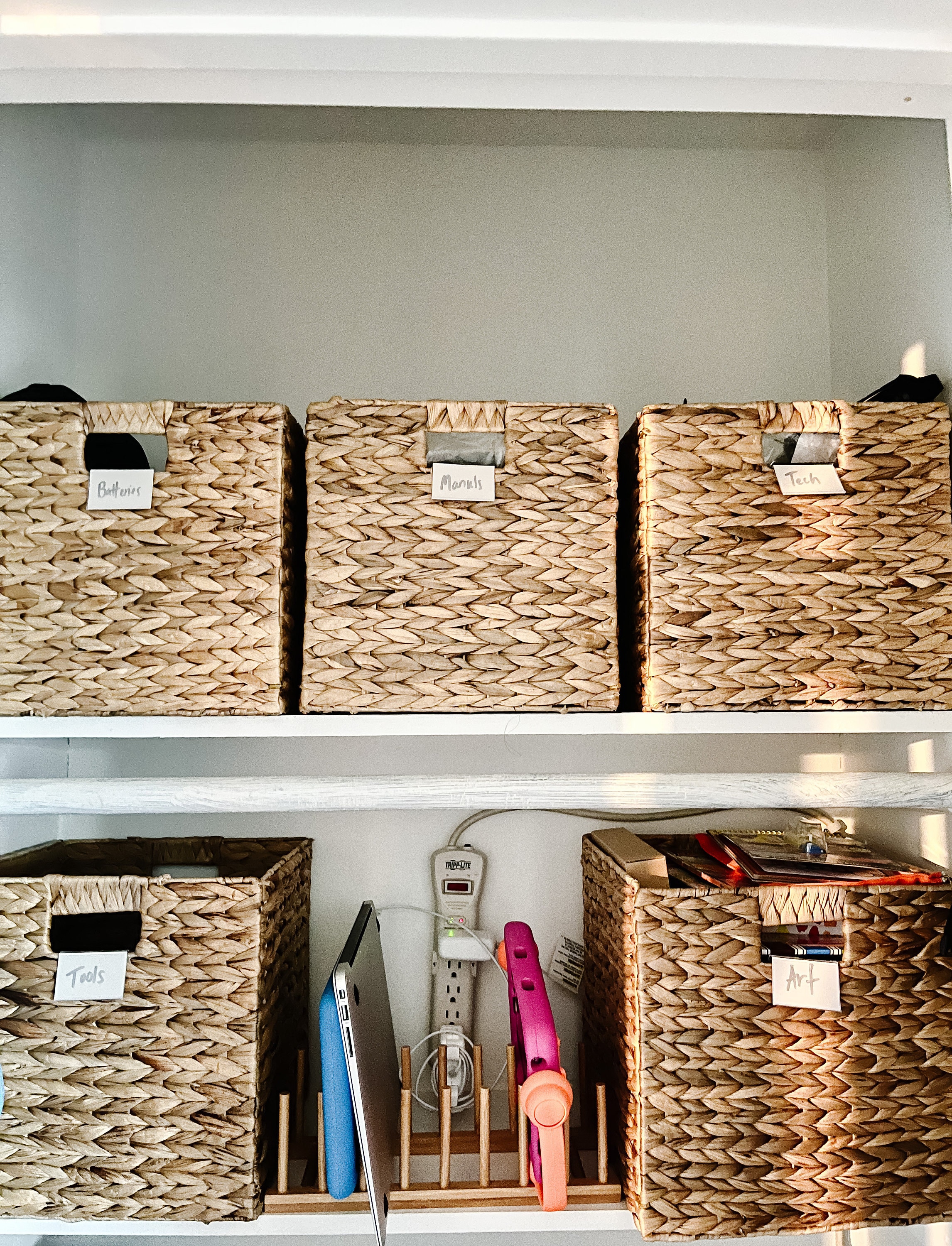 I purchased 8 total, and then order
this 50 pack of plastic hanging tags
so I could label the baskets (mostly for my husband's benefit). They barely fit over the thick hyacinth the baskets are made from, but they work.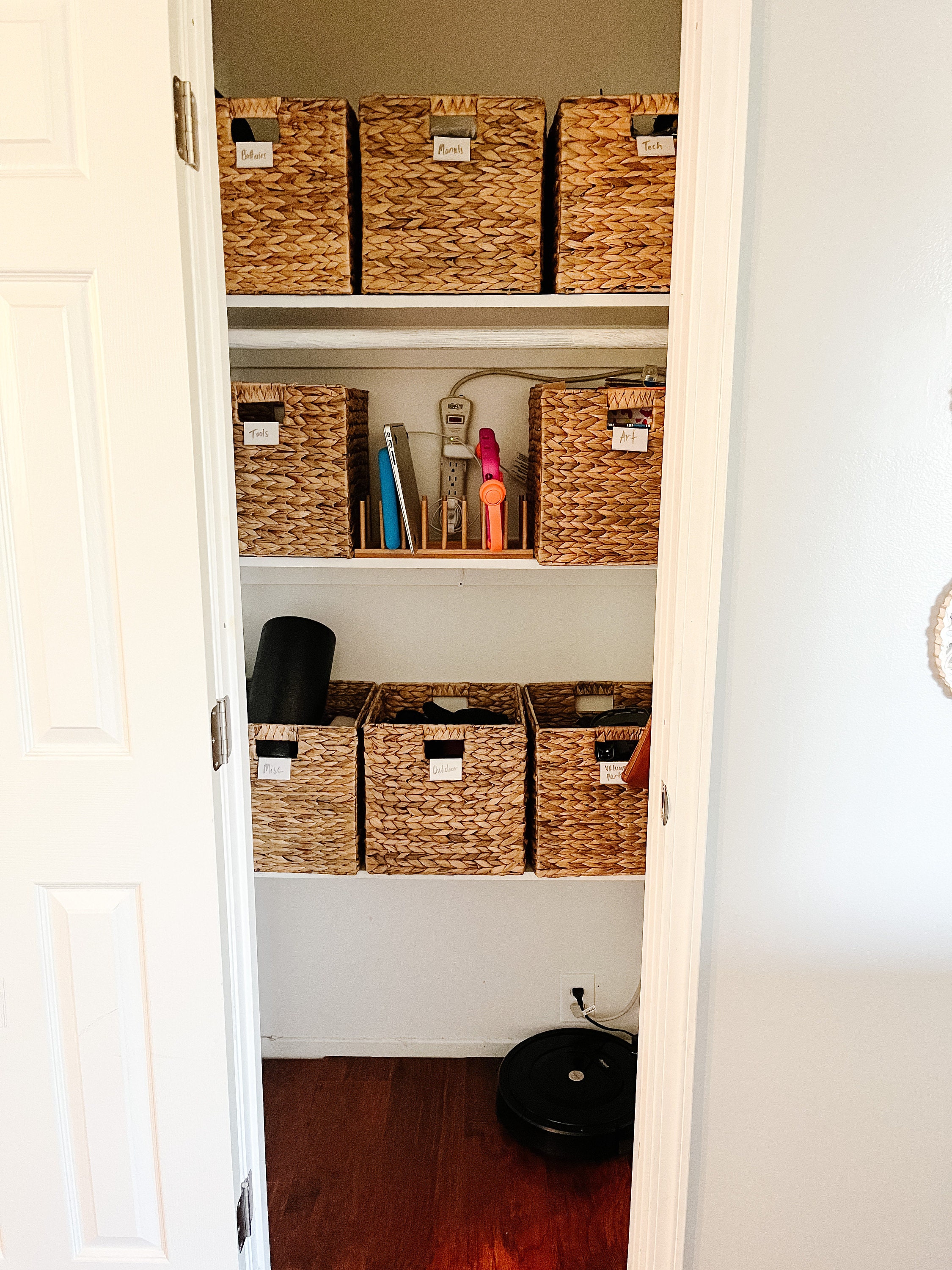 I also have a hanging
basket
on the other insde wall for spare keys, sunglasses, umbrellas, and purses/bags.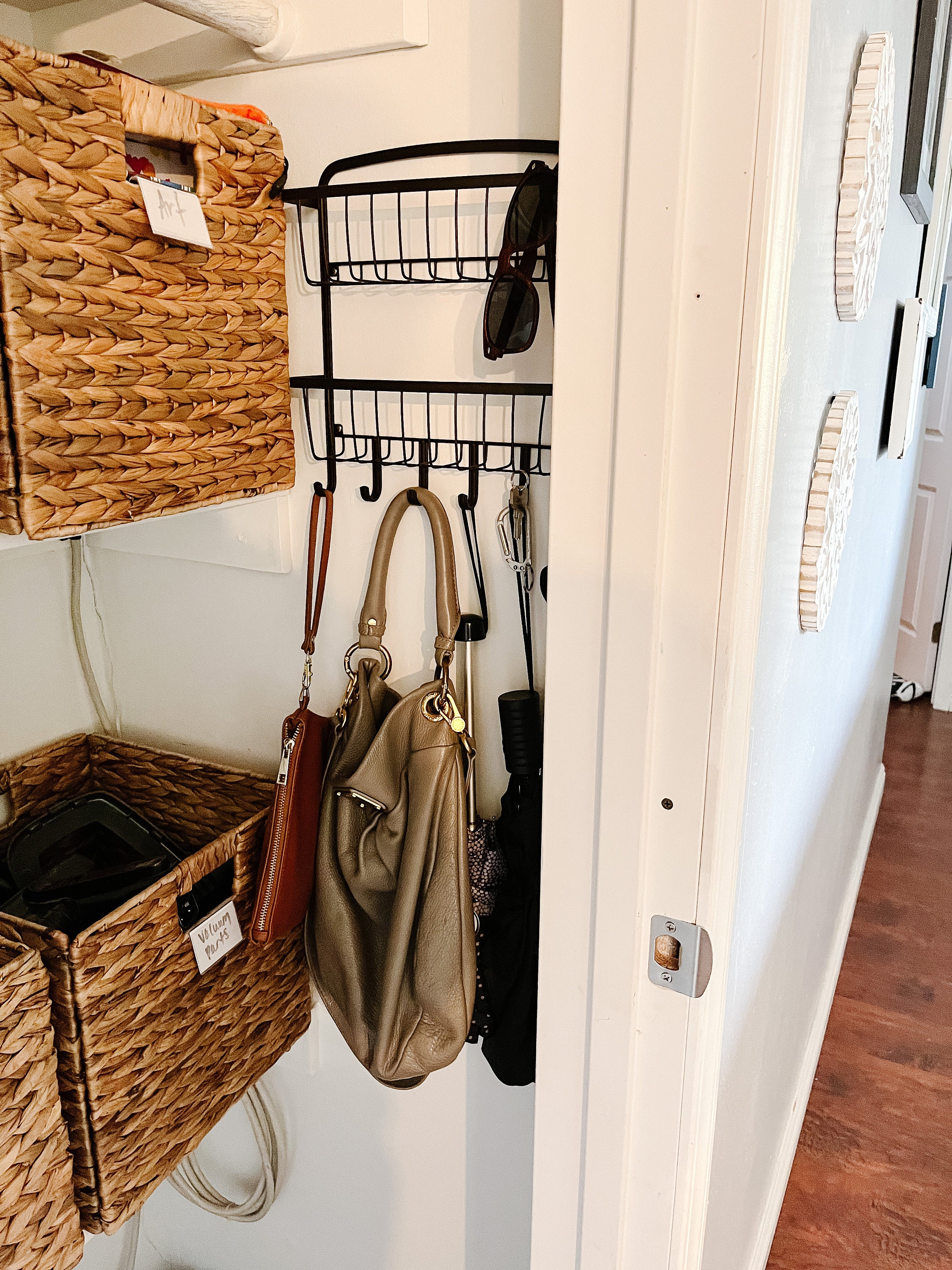 Kid's Closets & Toy Storage
To mazimize our other closets, I swear by the
IKEA BOAXEL system
. It was easy for my husband to install in one afternoon, and has hundreds of configurations. Four years later, it seems super sturdy and interchangable as my kid's grow, but for a fraction of the price of an ELFA closet system.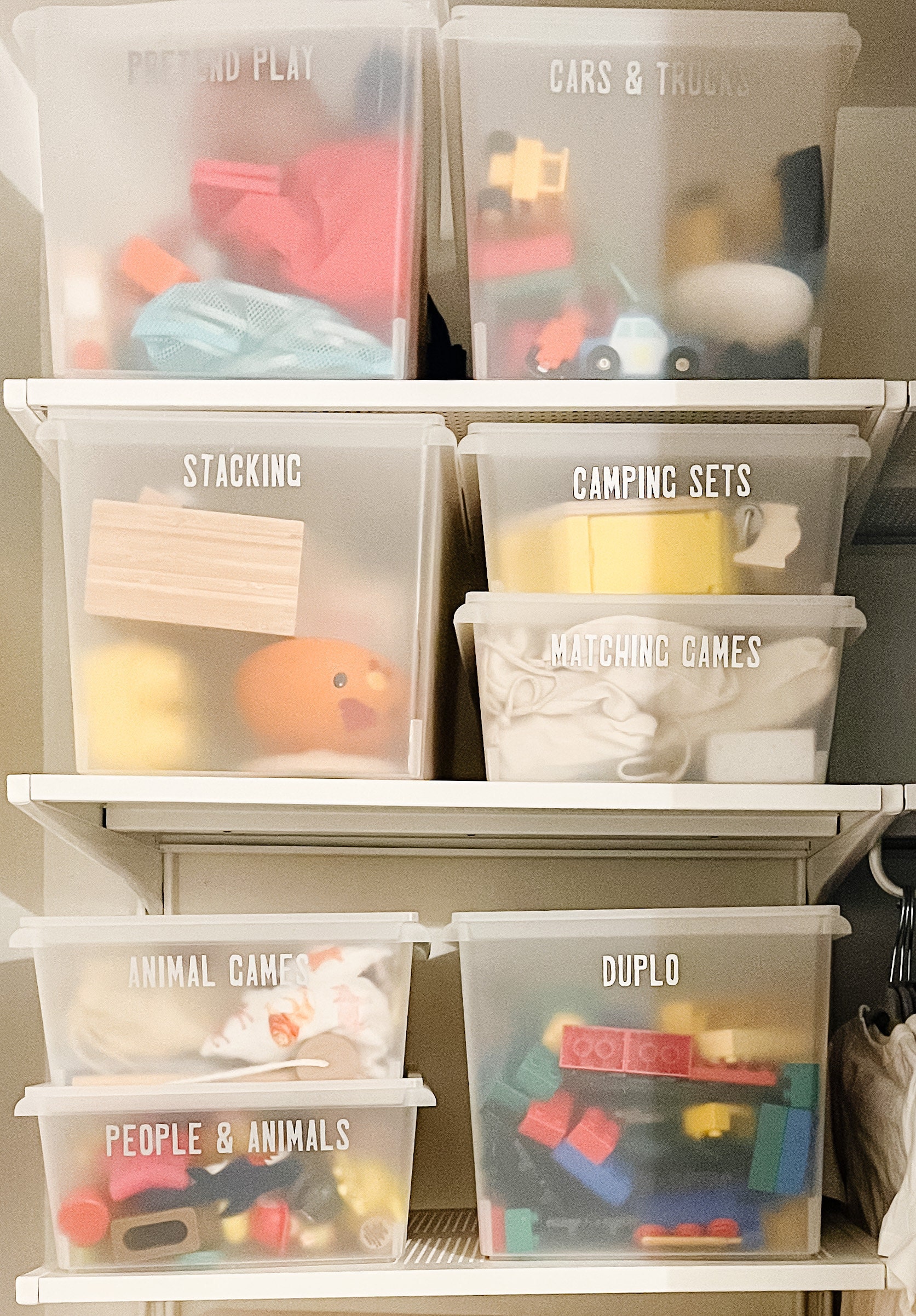 We use a mix of shelves, baskets, a hanging bar for clothes, and a shoe rack.
My kids have been very spolied by their friends and family and we therefore have WAY TOO MANY TOYS. I store most of them in these
bins
and rotate them monthly, Montessori style. I believe they only sell them in the solid white color now. The lids don't lock, so they are easy for kids to open and close. I wouldn't recommend these if they are easily accessible to little kids, because if they throw them around a bunch or sit on them, they will crack. I like how sleek they look, but there are many other options that might be more functional for your situation like
these
or
these
. I labeled the bins for easy access, and sell custom labels in
my Etsy shop
.
Let me know if any of these strategies were helpful to you:)