*Some of these links are commissionable, and I may earn a few cents from qualifying purchases. I never link anything I haven't tried myself*
Our backyard has always been a place that attracted butterflies year in and year out. I ordered
this butterfly garden
from Amazon about a year ago for a friend's daughter's party, and when it did not arrive in time, I decided it would be a fun thing to try with the boys - and ordered a cup of caterpillars from
Insect Lore
. There was a voucher included in the butterfly garden to order on Insect Lore's website. Or, you can order the kit all together on their site. It was so cool to see the metamorphosis process when 4/5 of our caterpillars transformed into Painted Lady butterflies and we released them into our yard. We also tried out their
LadyBug Land experiment
, too, which was really fun for the boys.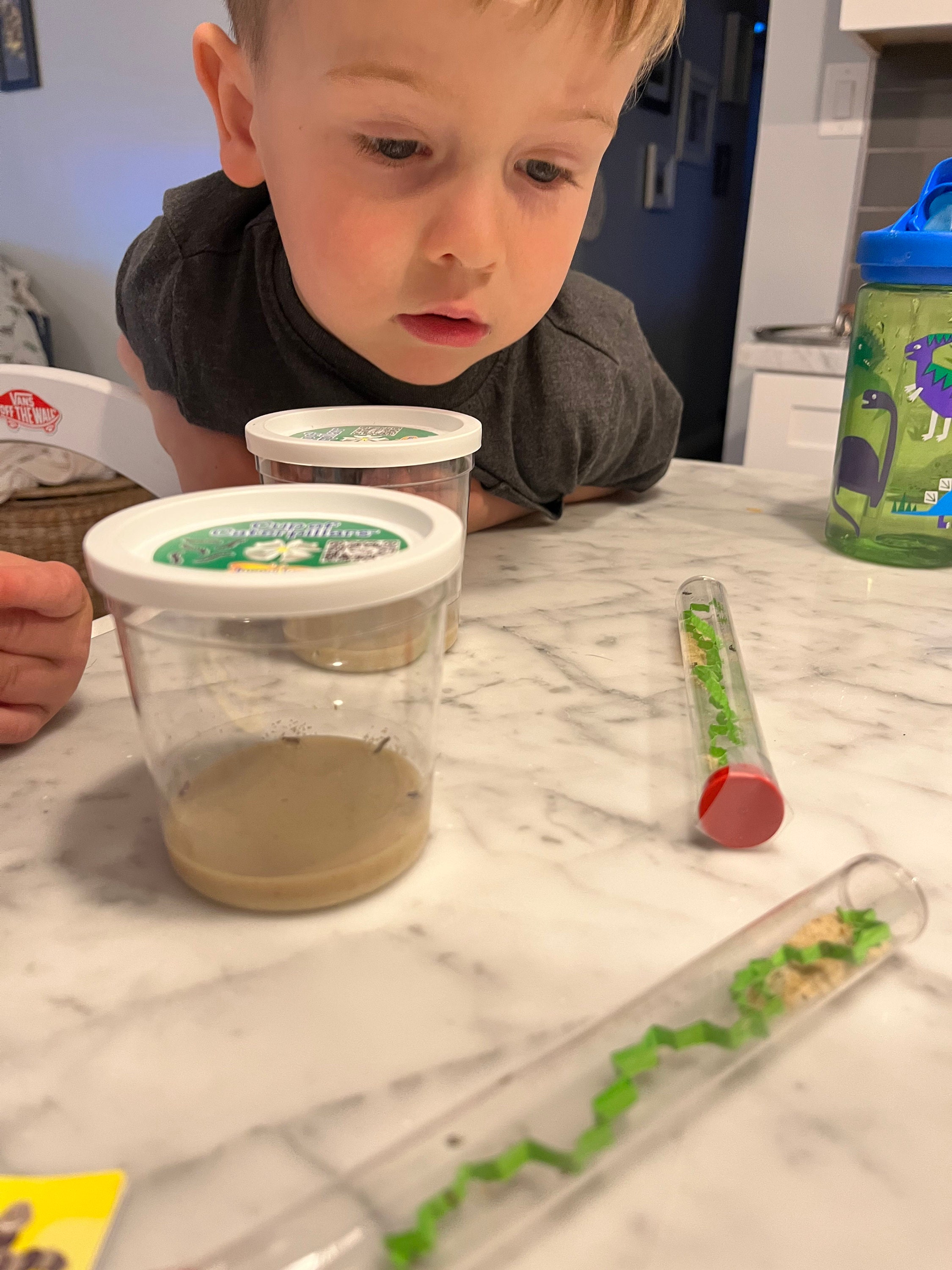 Then, on a whim, I bought two milkweed plants to see if we could get even more Monarchs. When we found our first caterpillar a few weeks later, I was fascinated. Then, each subsequent new caterpillar I found would be around for around a week, and then suddenly disappear. I began researching and realized only about 5% of Monarchs make it to adulthood in the wild. I promptly purchased
this book
for the kids (but let's be honest, it was for me). I also found a lot of useful information on
this website
. I promptly found some tulle fabric I had leftover from under the sea birthday party decorations and encased the milkweed plants in it until a recommended
butterfly cage
arrived a few days later.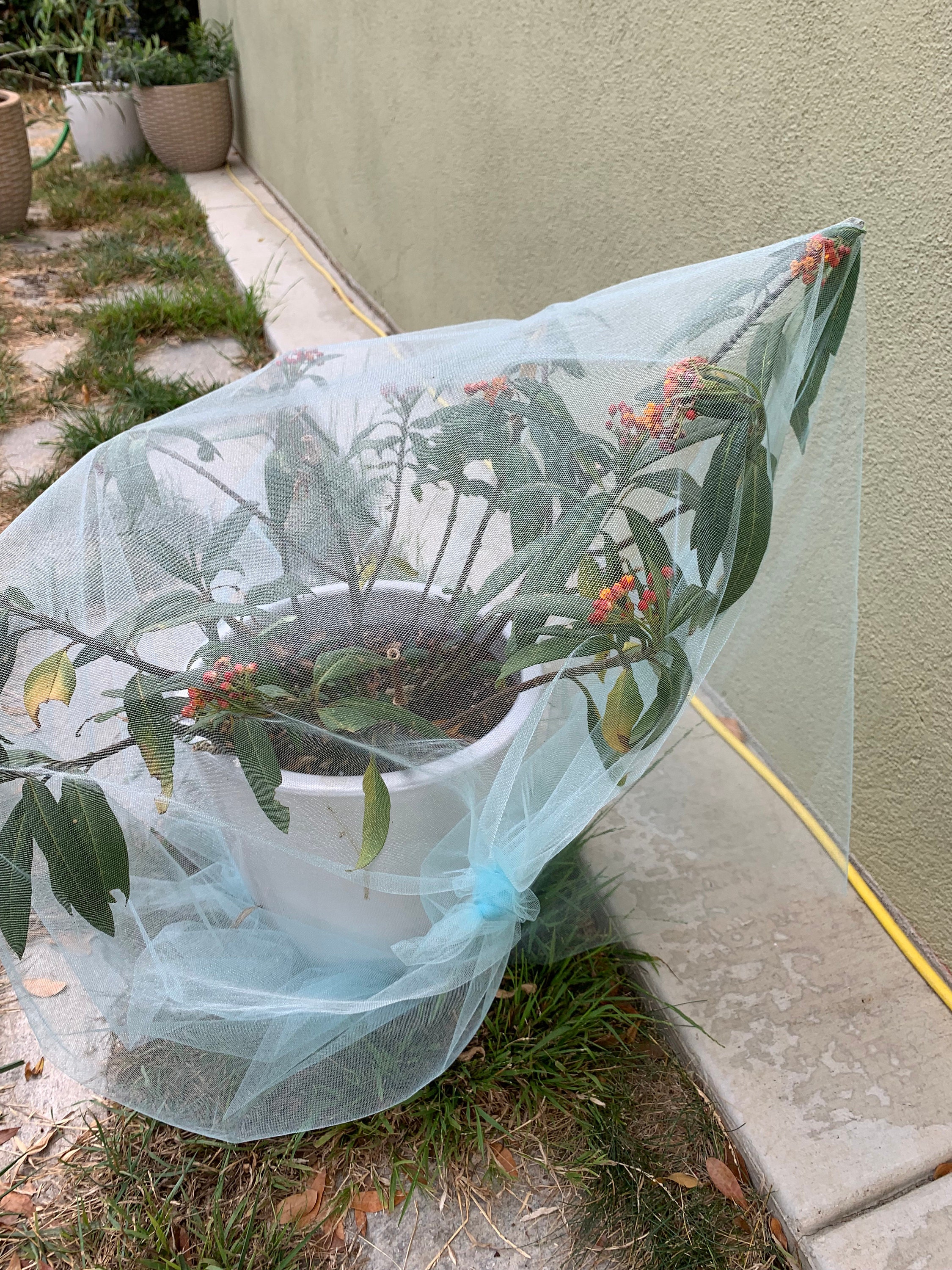 Our first year, we found and raised 15 caterpillars, and had 9 become adult butterflies that we released. This year, we are working on perfecting our strategy to increase that success rate. After researching how to protect and grow the Monarch population, here is a summary of what we learned, implemented, and were successful with:
Just make sure you get it from a nursery that does not spray for pests. They will keep away the aphids, but also kill the caterpillars. A quick yelp and nextdoor search helped me narrow down the places to buy milkweed in my area. We started with 2 plants last year and bought 3 more to feed our hungry caterpillars. Now we have 9 - 7 planted in the ground (taking over one of my vegetable beds), and 2 inside my butterfly cage.
Search Daily for Monarch Eggs & Caterpillars
We went out at least once a day and gently searched for eggs and baby caterpillars. The eggs tend to be under the leaves and on the flower buds (we have mostly tropical milkweed). Chewed leaves are a sign that a caterpillar is nearby. A magnifying glass can help, and is a ton of fun for the kiddos. We use
this one
, and one we bought at Dollar Tree.
I used a plastic togo container and plastic tupperware to raise my eggs until they hatched. I simply laid them on wet paper towels, egg side up and checked daily. They have enough air when the container is sealed (which you need to do so a new baby doesn't escape). Little black caterpillar poop is the first sign an egg hatched (and the egg is gone since the baby eats it as soon as he hatches). Exchange the wet paper towels daily, but make sure there aren't any caterpillars on there, first. They are super small in the beginning and will grow 3,000 before they enter the pupal stage.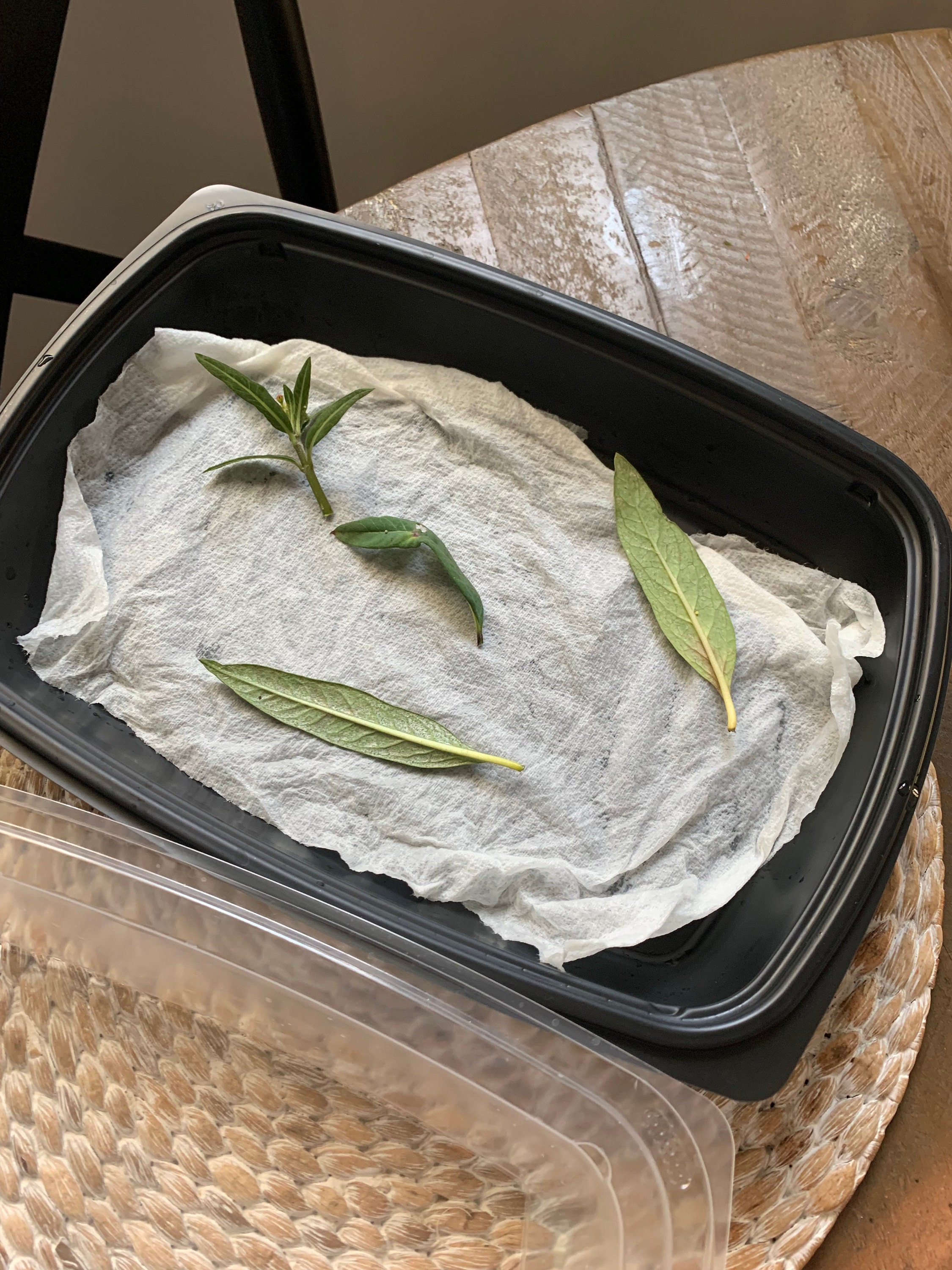 After a day or two, I moved them into the butterfly garden from our first caterpillar experiment. I quickly realized the new babies could escape because the mesh was too big, so I moved them in with the big plants in the 36 inch butterfly cage. Another option would work, too. I used
these
to put milkweed cuttings in for the babies, because cut leaves dried out in one day. These floral water tubes helped keep the leaves fresh for longer.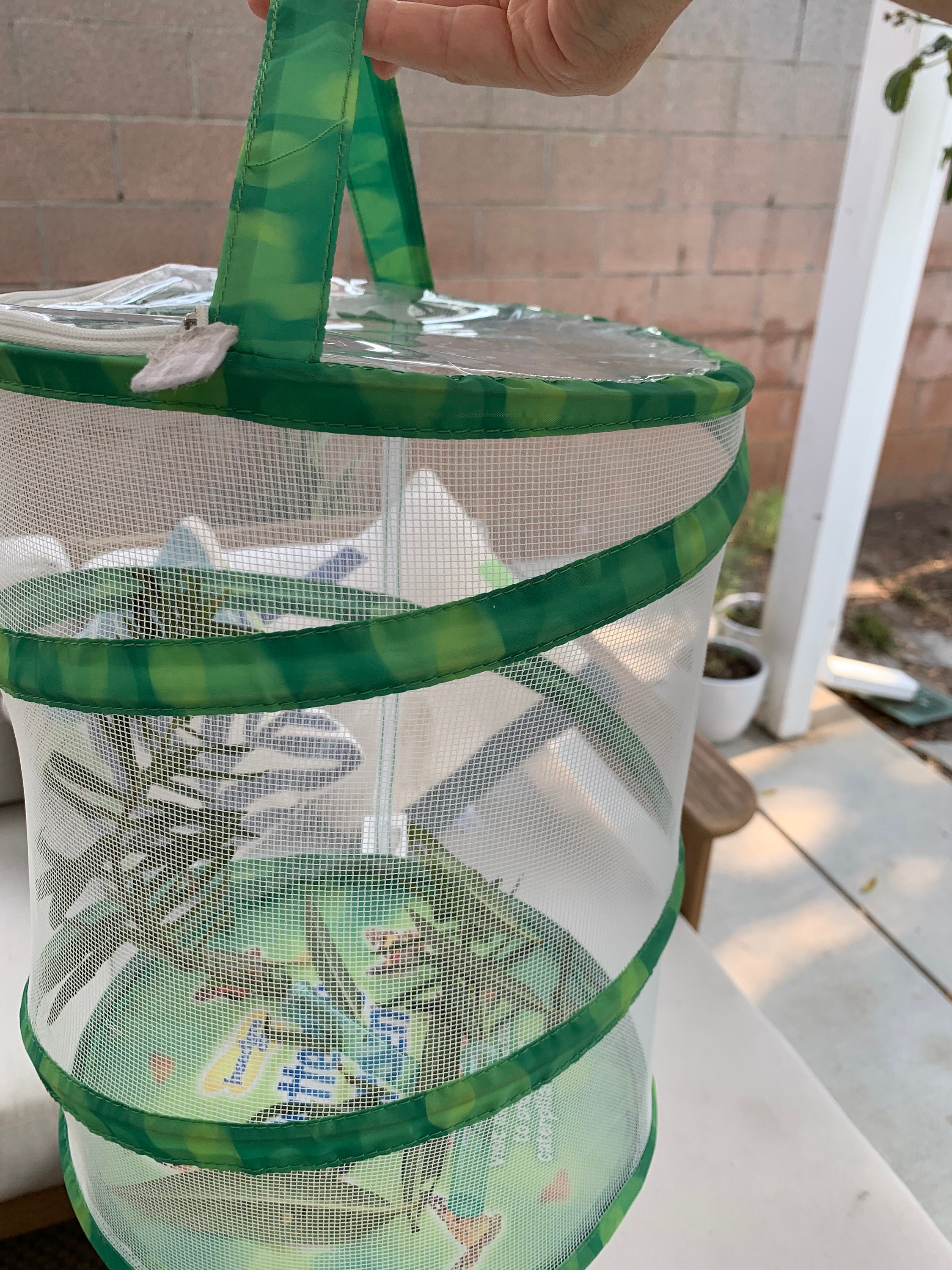 Worried I was running low on milkweed, I put whole plants into my 36 inch cage so that the plant would stay fresh for the caterpillars. As more caterpillars were raised, I added a second plant. This cage can easily fit 4 plants, with room to still wipe out the frass (caterpillar poop). You are supposed to wipe the frass out daily to keep things clean and disease free. I used my small handheld vacuum once, too.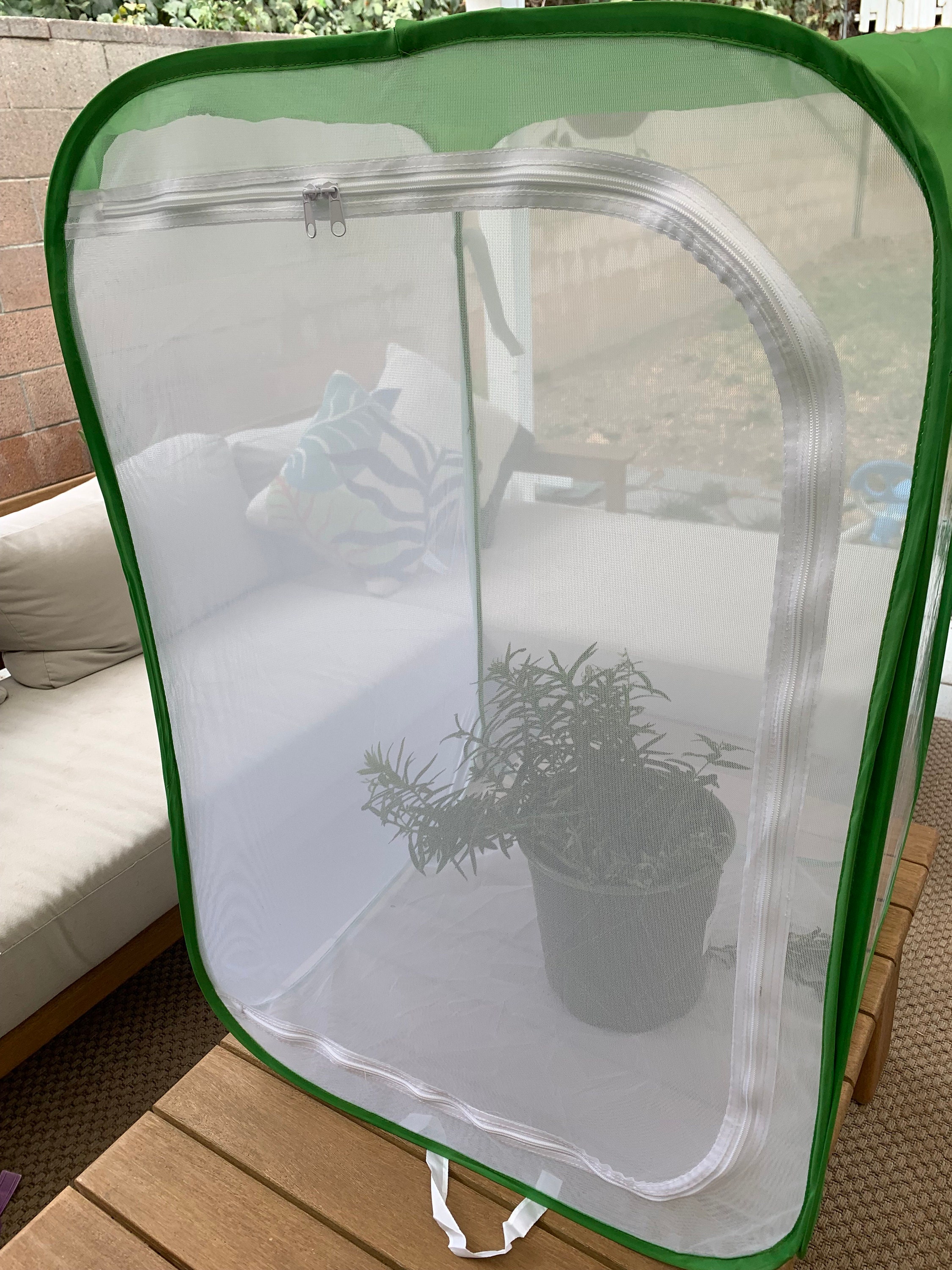 Now, we just checked on our caterpillars daily, and added more babies as we found them. After around two weeks, they found a place to make their chrysalis. Most climbed up the side of the cage, and one attached himself to the side of the plant pot.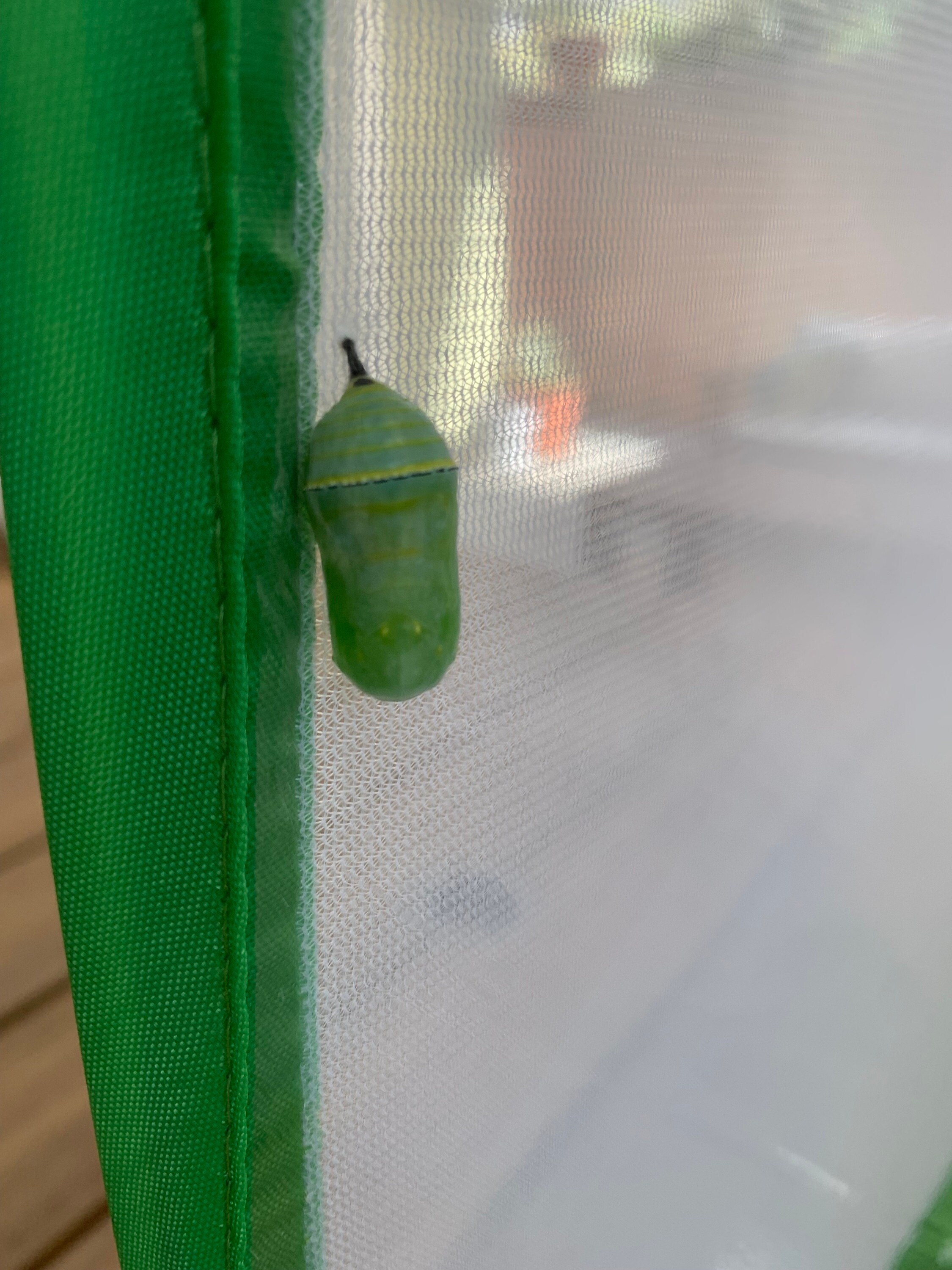 I only managed to catch one transforming since it happens so fast, and witnessed him wriggling so much while transforming, that he fell from the top of the cage. I googled what to do, and used a drop of hot glue to attach the end of a Q-tip to the top of his pupa. It was wild seeing the pupa react and reach to attach to the Q-tip. That butterfly made it to adulthood! If we had left him on the ground, he probably would not have made it. I have videos of him saved on my Instagram in the Monarchs highlight (@theorganizedmommyco).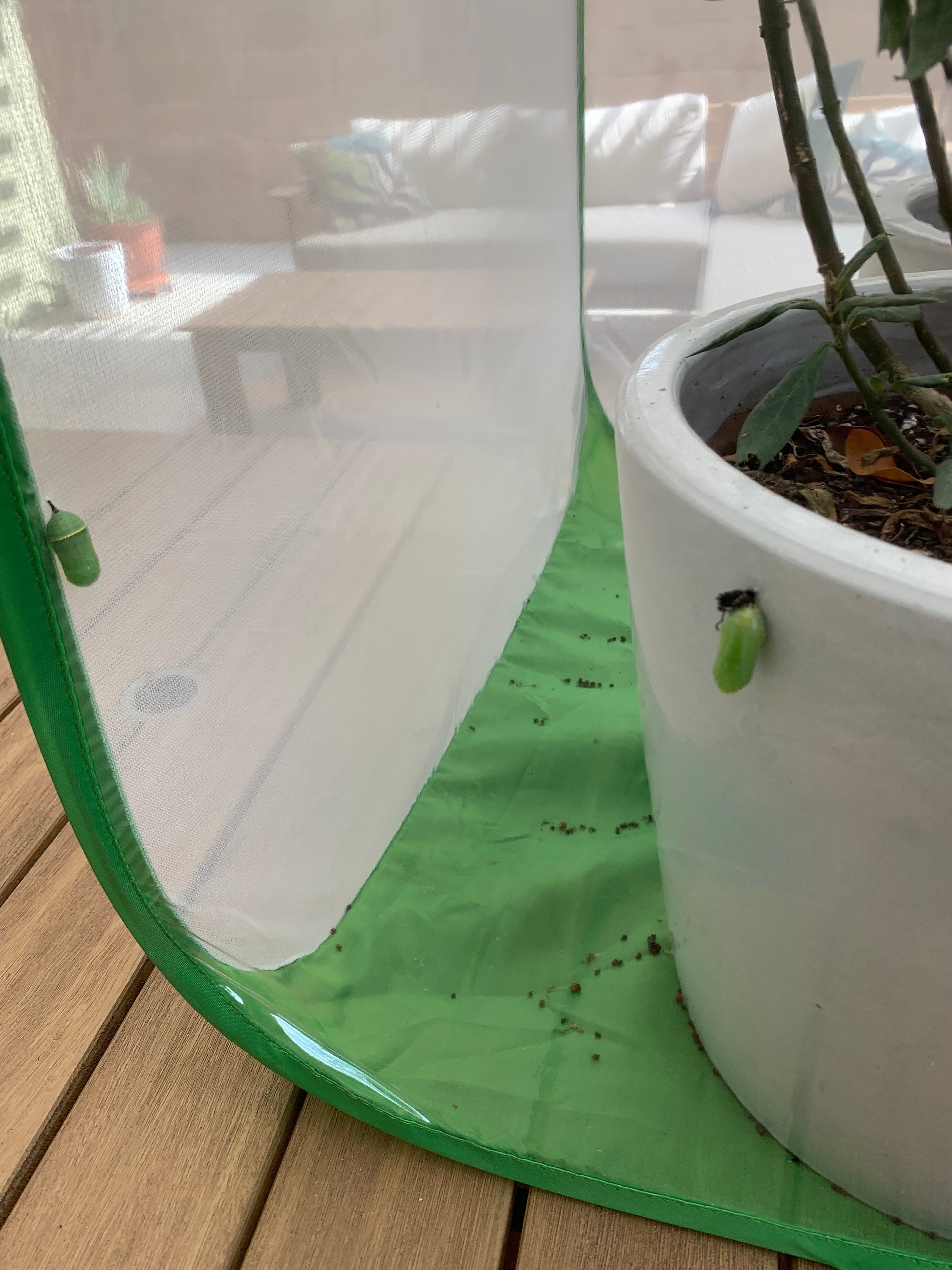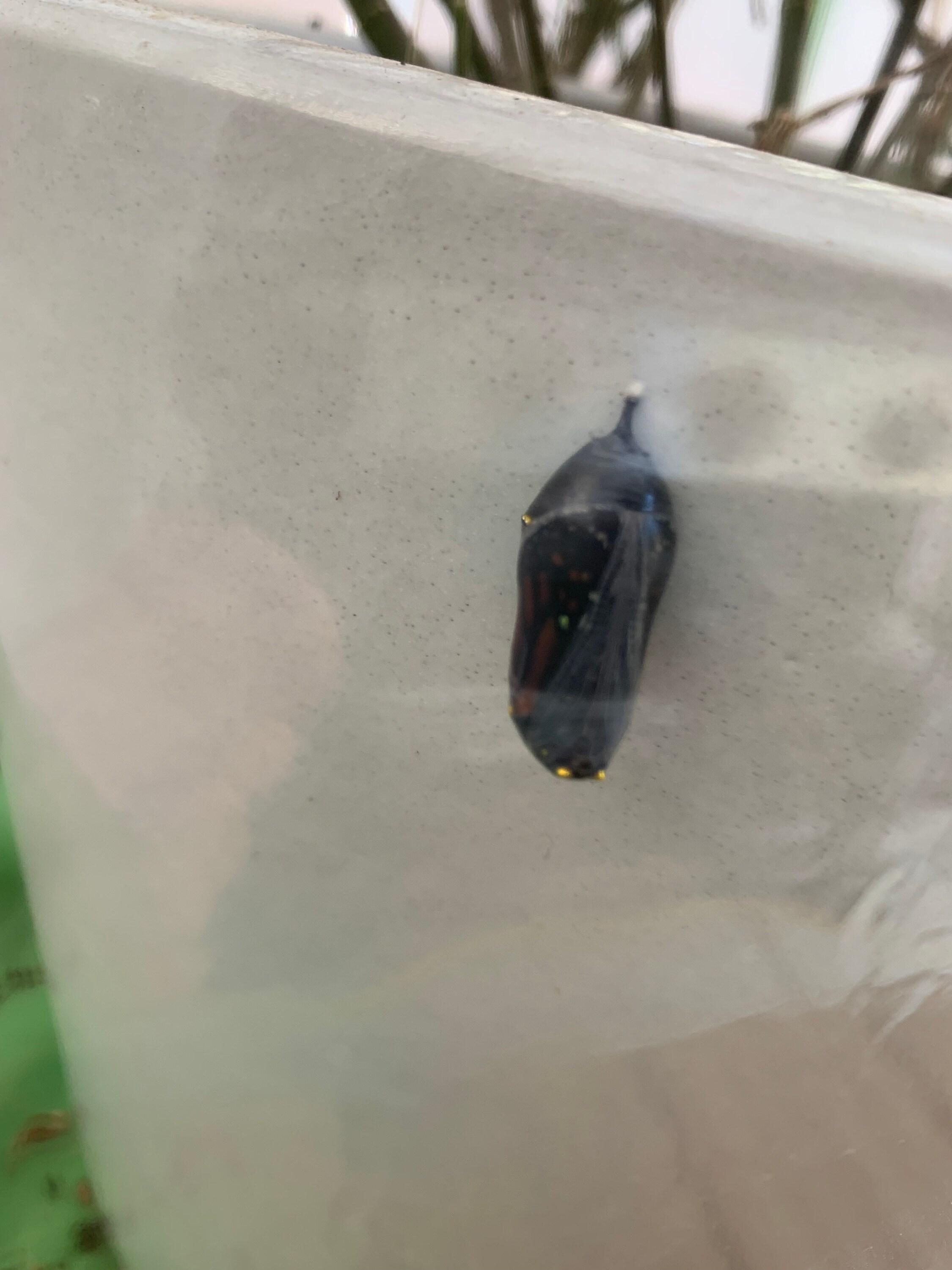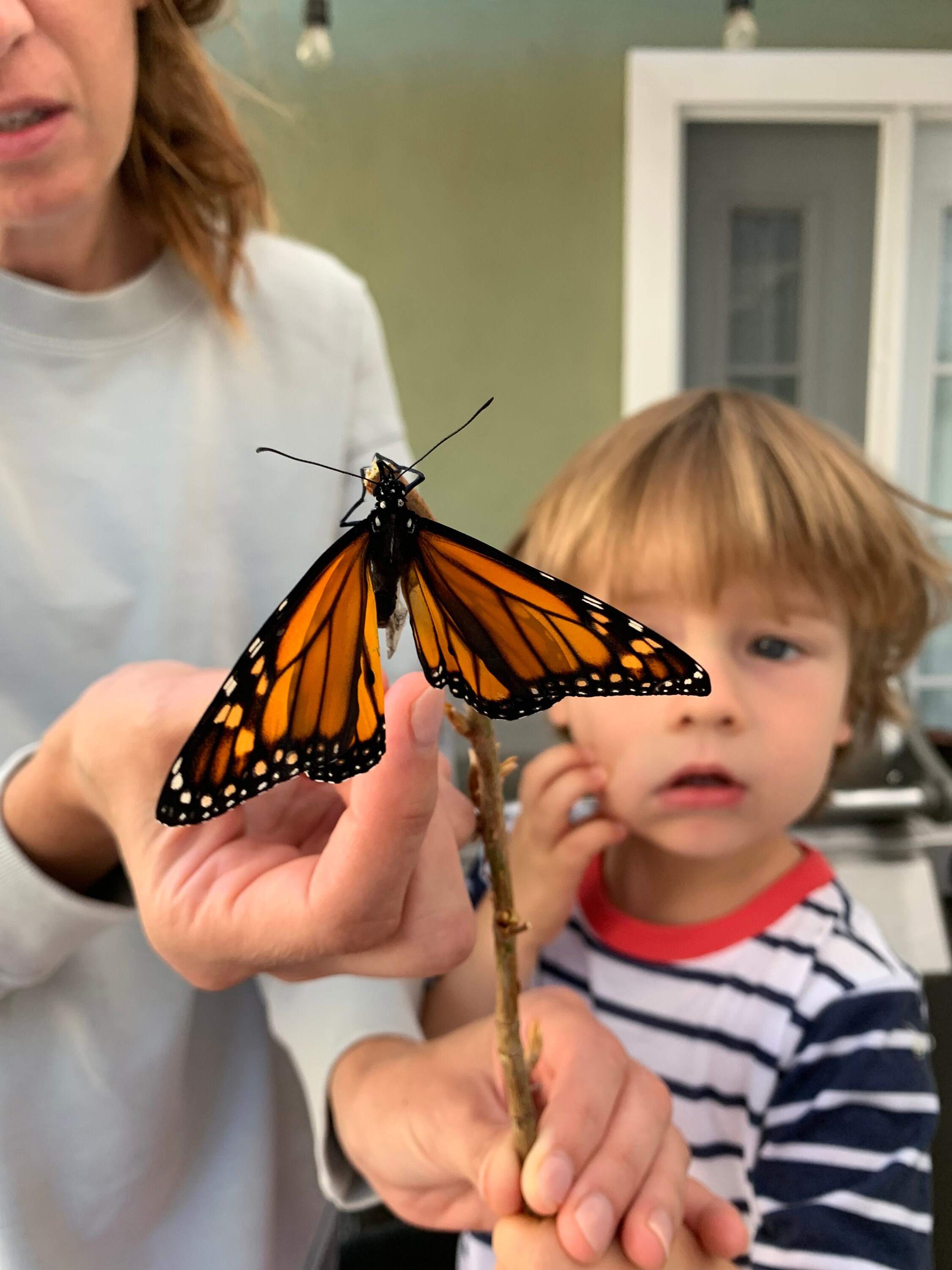 After the Monarchs came out of their chrysalis, we waited a few hours for their wings to dry, and released them into our backyard. We used a stick, which the butterfly climbed onto. This was the best part!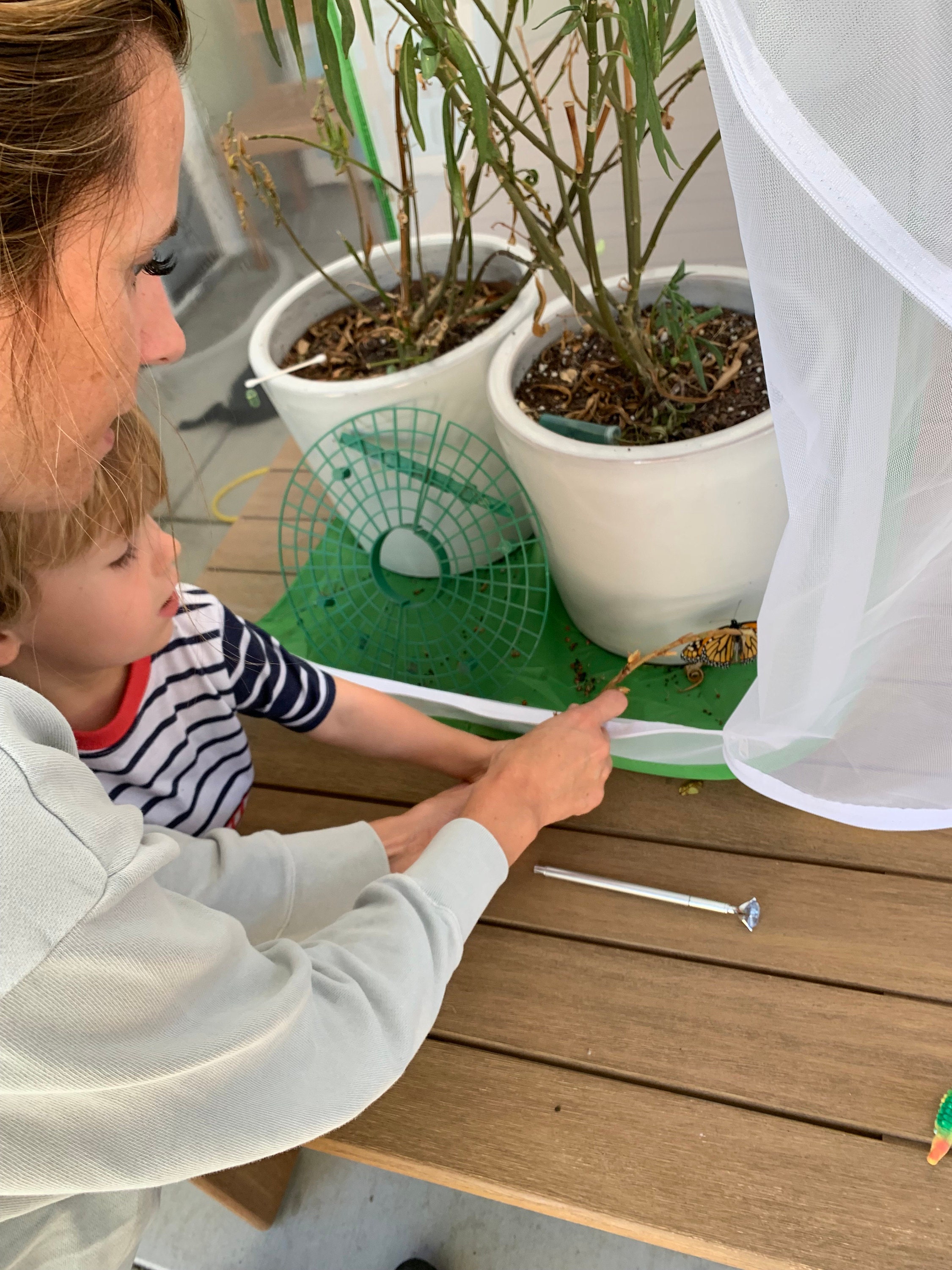 I hope this inspires you to plant some milkweed, even if that is all you do:) There is so much more to learn about Monarchs, and I am still learning more with our next round (so far we have 23 caterpillars growing in our cage and it is only March).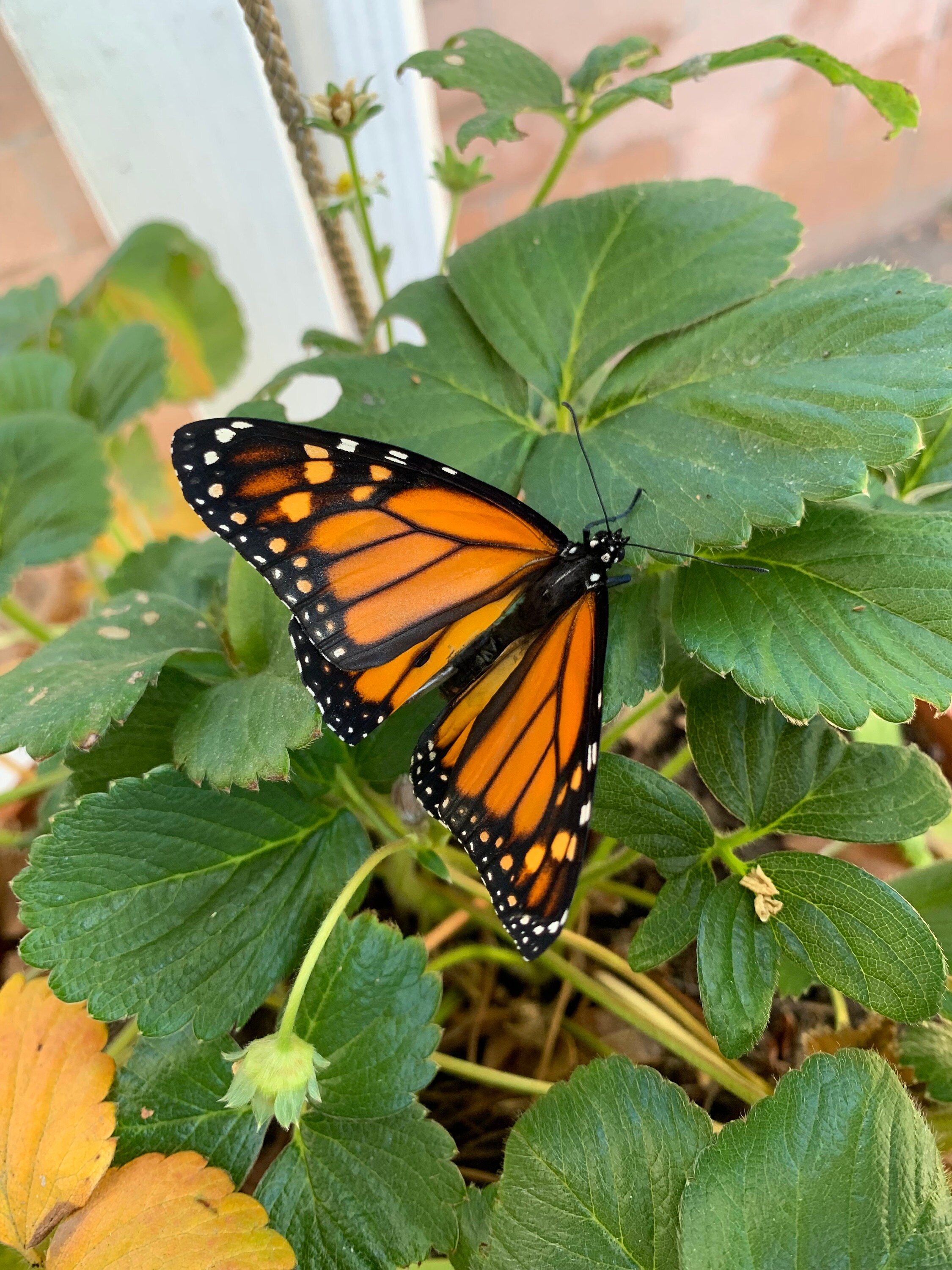 I washed the cage after our last butterfly in a weak bleach solution, folded it up, and stored it until a few weeks ago when we found our first caterpillar. I rinsed it with mild soap and water and let it dry in the sun before setting it up.
*Again, these are mostly tips from the book and website sources mentioned above, although I read the same tips on many other websites. I know that many monarch enthusiasts believe you should let nature take its course, but with their population dwindling, it seemed like a small way we could contribute, while also teaching my boys a little but about science and nature. It has become a favorite activity my 3-year-old likes to do with me.*
Follow our Monarch Journey on Facebook or Instagram @theorganizedmommyco