While I always know which plants are which, I like my garden to be organized with garden markers or labels. I tried wood ones last year, but they deterioriated over time. Here is a quick project where you can make your own terracotta-like garden markers and your kids will have a blast making them. Even my 19-month old enjoyed playing with the clay and letter stamps. They are beautiful because they are imperfect.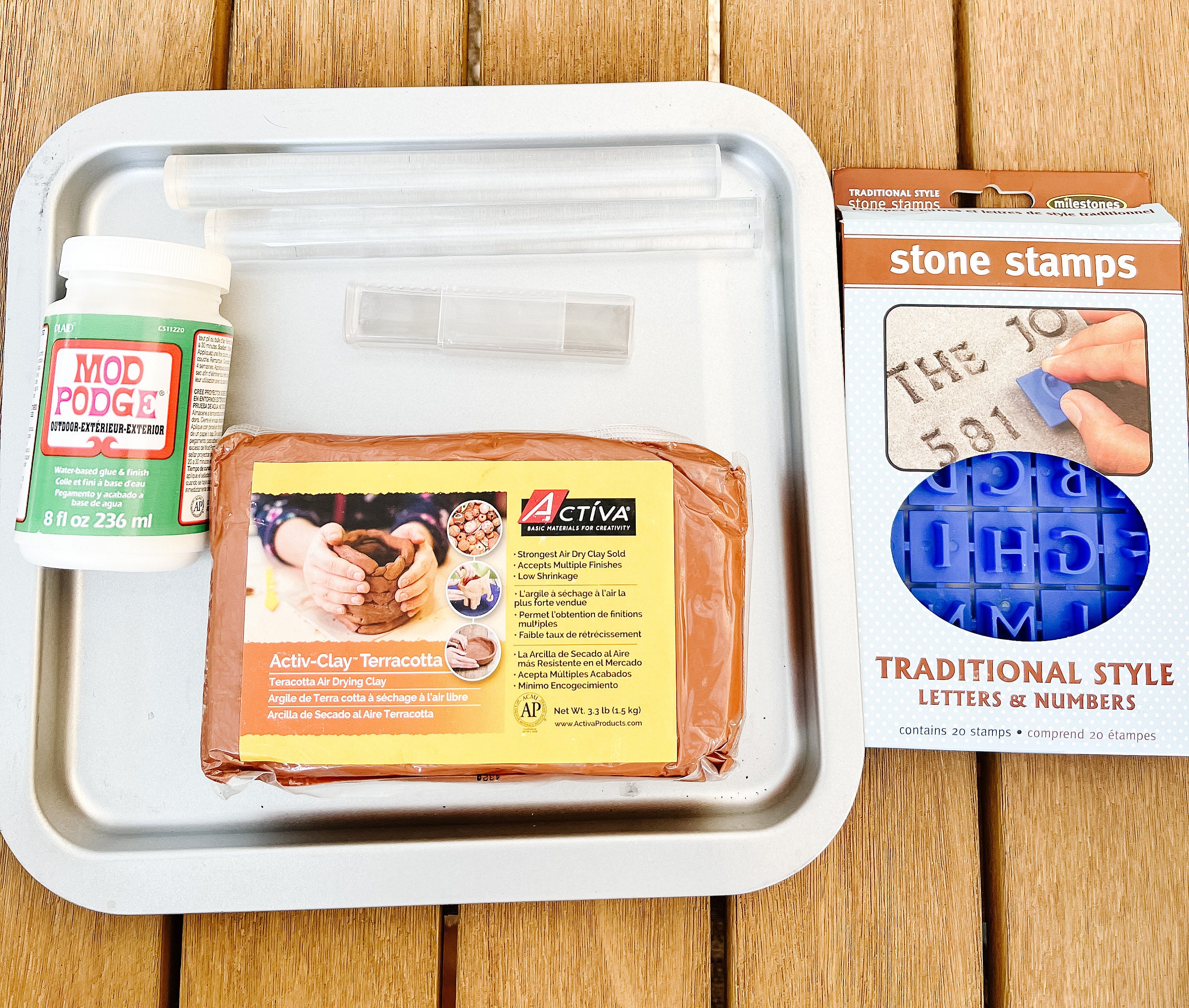 I have included product links to what I used for your convience, but *full disclosure* they are afflinks and I could earn a few cents from them.
Oven baked clay 
in terracotta
Paintbrushes
(preferably small - so use one of your kiddos') I used some children's brushes from IKEA, but their stuff is sold out in so many places, so I linked a best seller for you if you don't already have brushes.
I laid out some parchment paper on our outdoor coffee table and secured it with chip clips. I had a small bowl of water as the directions on the clay said to work the clay with wet hands.
I used the sharp edges included in the acrylic kit to cut off pieces of clay and the rollers to roll it out. Roll the clay out to 1/4 to 1/2 an inch (any less and the stamps will poke through). I tried a few different widths and lengths in my pictures, just as an experiemnt to see what worked best.
Unless you want all your markers to be identical in size, stamp the word out that you want, first, and fashion the marker second. This will ensure you don't run out of room and have to roll it out again. Simply cut straight lines next to the marker, and then cut a pointed edge on the bottom. If you don't want to buy the rolling kit, you can use a water glass and a knife and it should work just as well. My kids REALLY liked the acyrilic rollers because they are small (and there was one for each of them).
If you want your markers to be the same size, you can cut a pattern out of cardboard and use that, or use a cutting mat under your clay to measure out the correct size. I just found one at the Dollar Tree today, so I might try that for round two.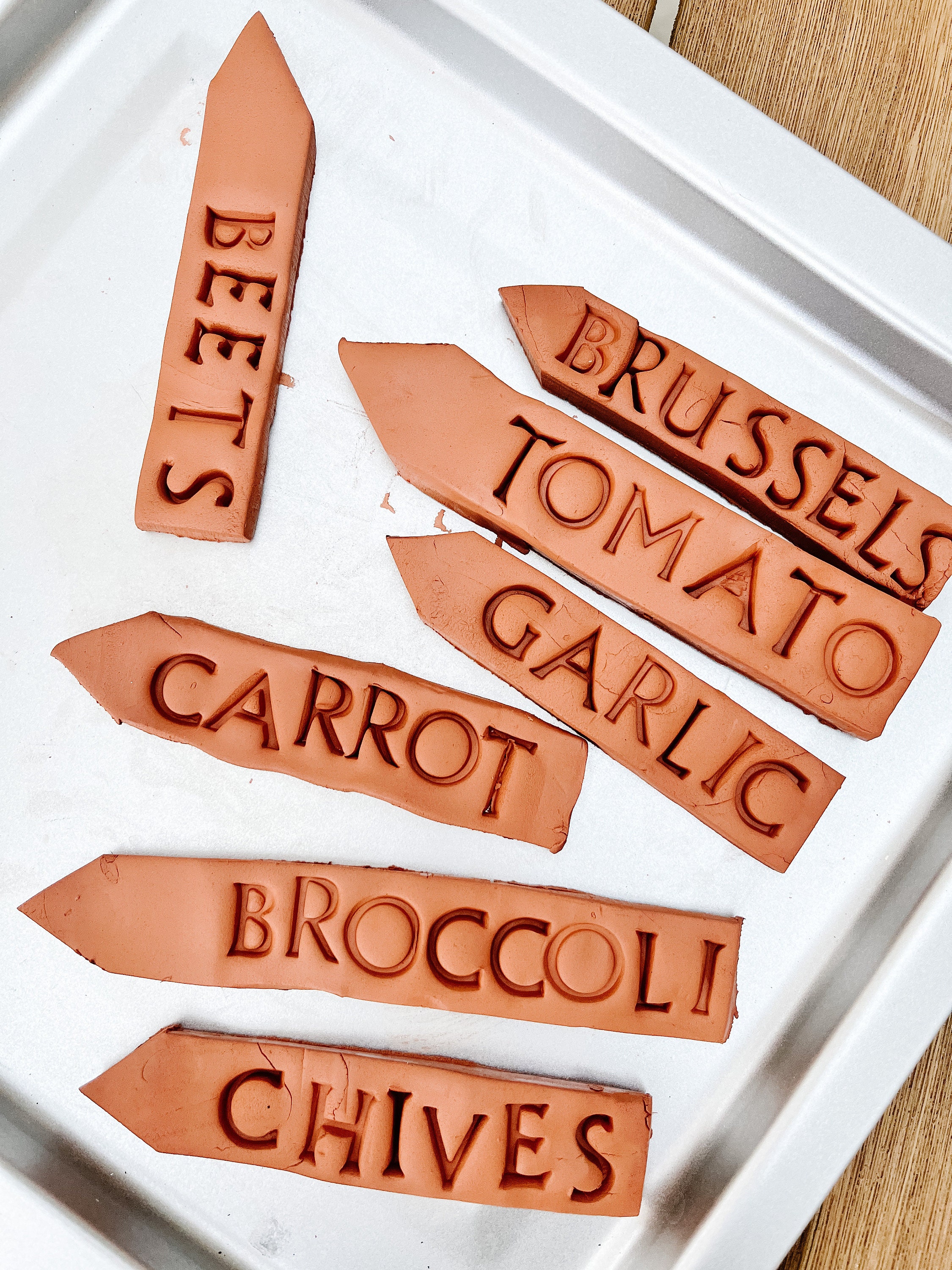 Bake for 15 minutes at 275 F.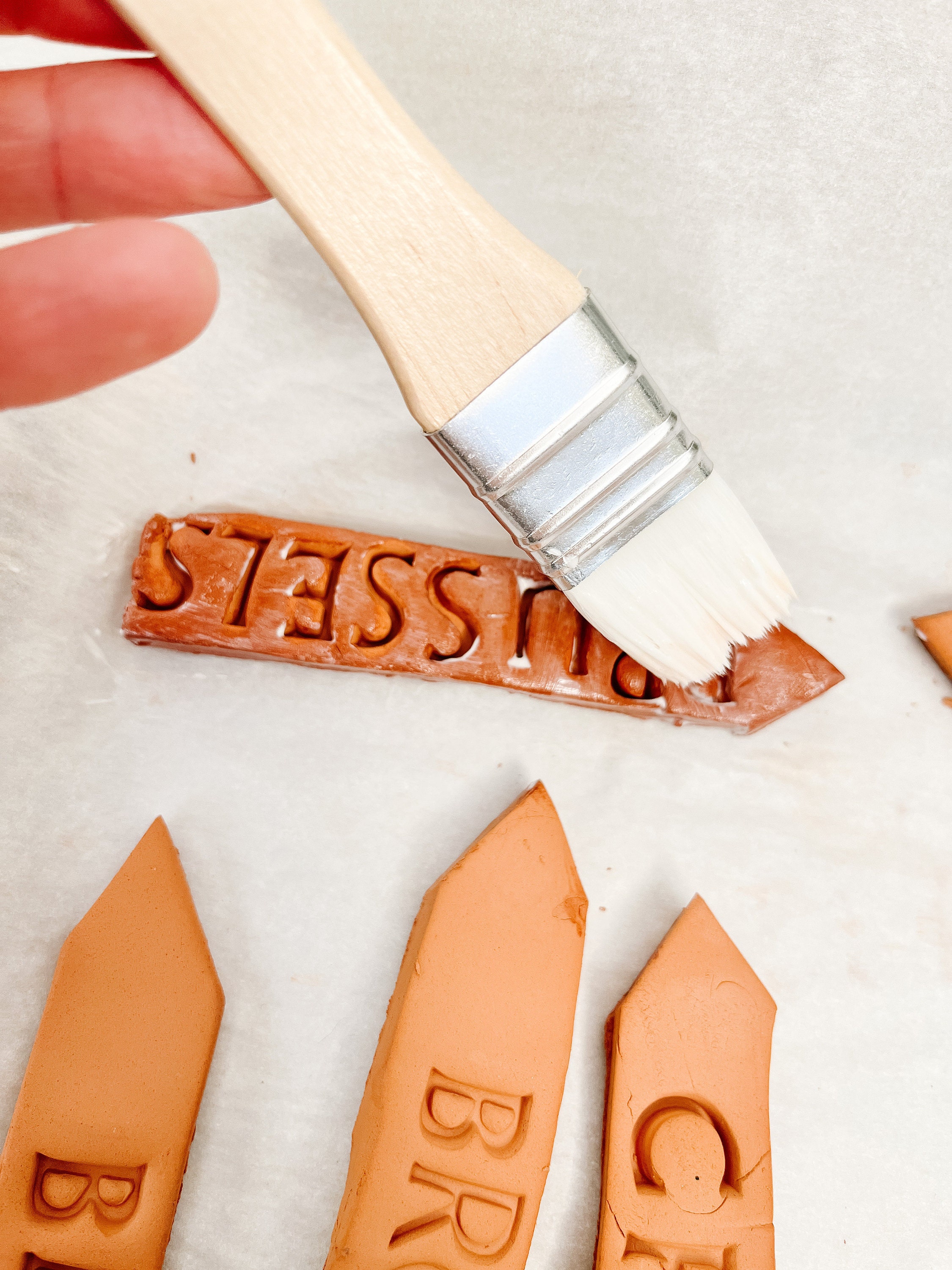 Use a thin brush to paint a thin layer of the Outdoor Mod Podge over the front and sides of the markers. Let it dry at least a few hours, then flip it over and paint the back. You will want to outline the inside of the letters with a skinny brush.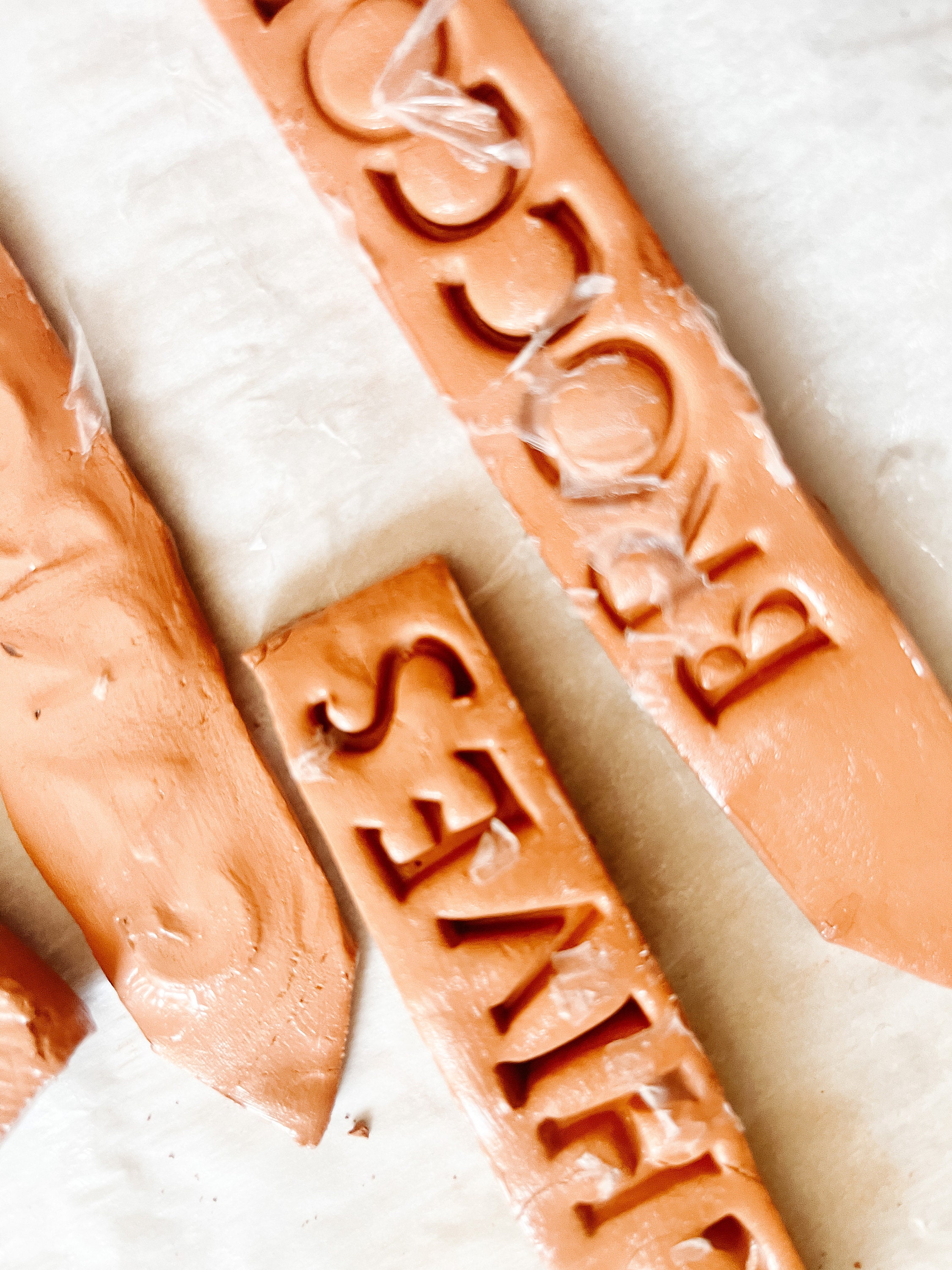 If you get glue chunks left over like this, simply peel them off. Painting a thin layer is best.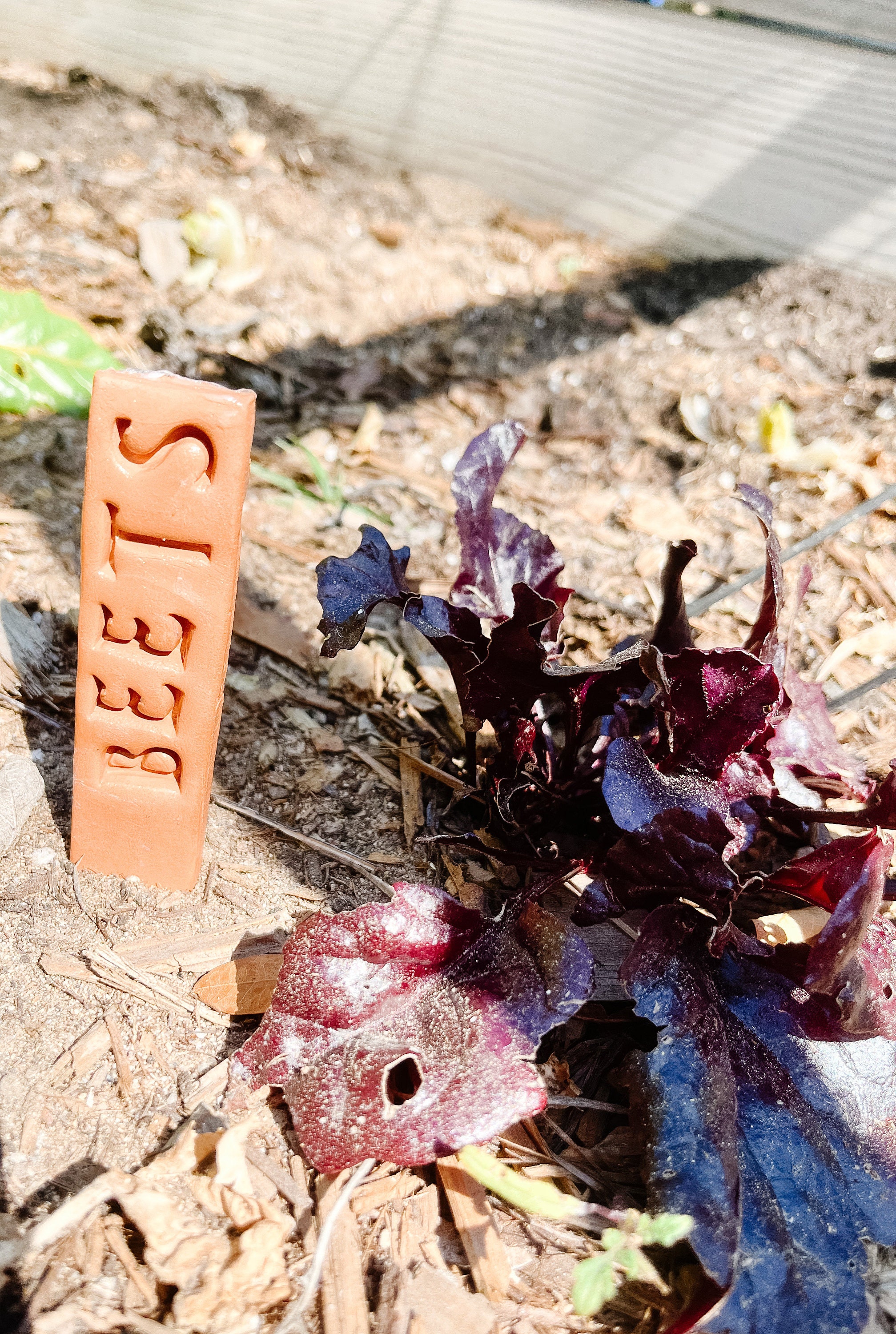 Viola! You have handmade, imperfect - yet beautiful - garden markers.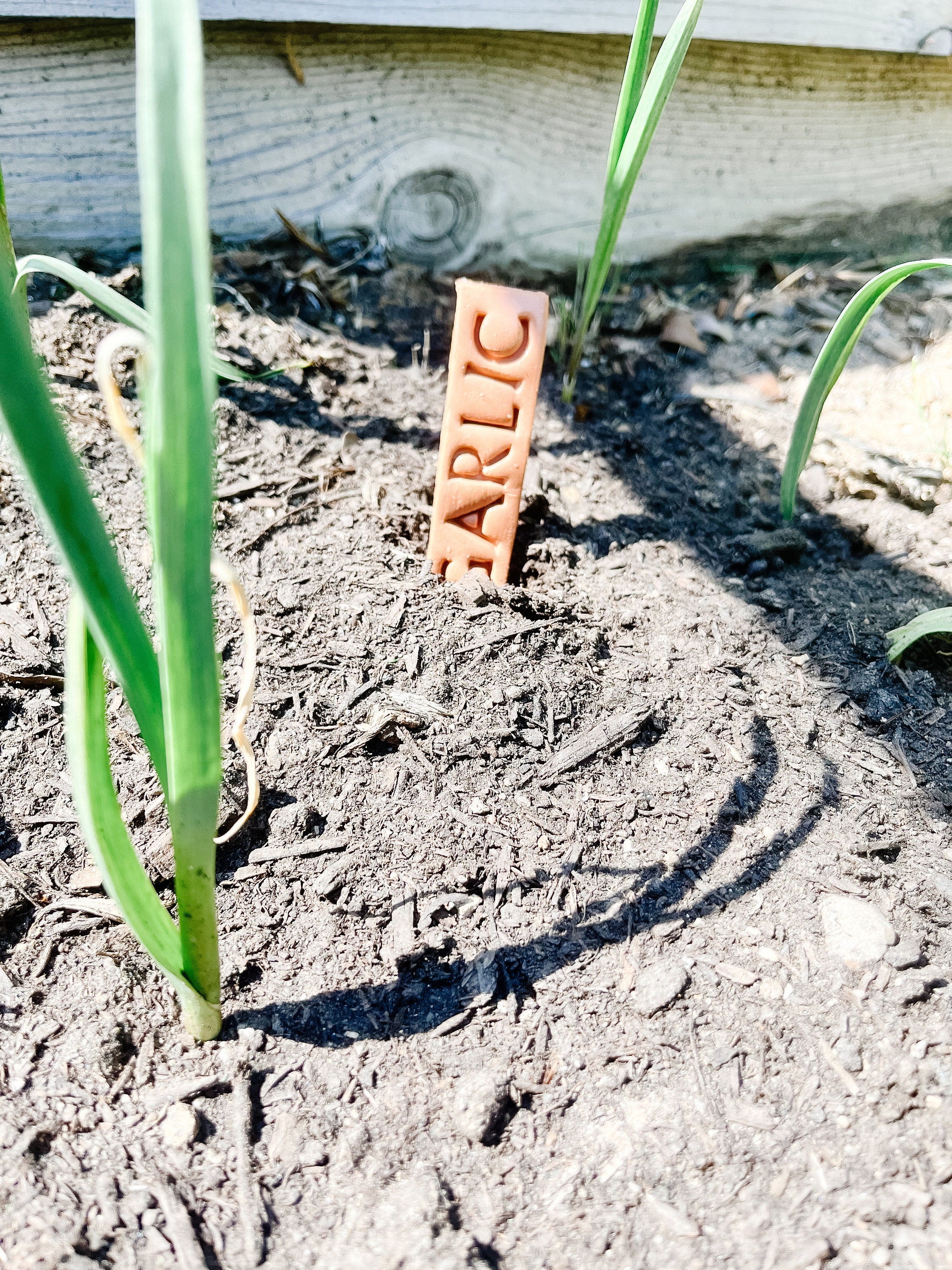 It took me around 1 hour combined to make 7 markers, even with my toddlers distracting me. It cost about $55 since I already had parchment paper and paint brushes. Online, custom markers like these will cost you $8-10 each and I only used 1/4 of the clay up. There will be many more markers made in the future. To store the clay for next time, put it in an airtight container. It will keep for up to a month.
These are what my kids made while I made mine: It kept them busy, but older kids could help you stamp the words out and have a blast diying with you! You could even turn it into a spelling lesson:)